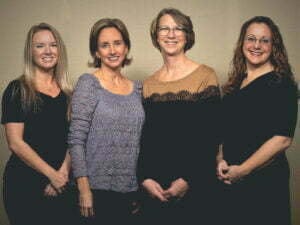 The Franciscan Physician Network Center for Midwifery in Crown Point recently joined the health system's network of physicians and care options.
Patients can seek care for pregnancy, menopause and wellness, among other services, at the center in the Medical Arts Building adjacent to Franciscan Health Crown Point, 297 W. Franciscan Drive, Suite 103B. Franciscan Health Crown Point also offers maternal fetal medicine specialists and emergency obstetric care, along with general maternal care.
Four certified nurse midwives will staff the center, including Shannon Markle, Heather Jackson, Jessica Jenkins and Lori Oxley.
"Franciscan Health Crown Point has consistently built and broadened our services to meet the needs of the community by advancing technology such as our robotics program, broadening our expertise as evidenced with our partnership with Ann & Robert H. Lurie Children's Hospital for neonatal intensive care services, and now, expanding our choices for women's services through our midwifery center," said Franciscan Health Crown Point President and CEO Daniel McCormick, in a press release.
Franciscan also plans to open another midwifery office at Franciscan Point, 12800 Mississippi Parkway in Crown Point.
Franciscan Health Crown Point's Family Birth Center was recertified by the Indiana State Department of Health in 2022 as a Level III obstetric and neonatal level of care facility. Lurie Children's neonatologists staff the NICU through a partnership with Franciscan that began last fall.