Franciscan Health now is using no-touch thermal technology to screen visitors and employees at its hospital entrances.
The scanners, which resemble a tablet computer on a stand, requires visitors and employees to place their face near the screen to get a temperature reading within a few seconds. The measure is part of efforts to curb the spread of the coronavirus.
"We are thrilled to be able to offer the most cutting-edge temperature screening technology to those we're privileged to work with and serve," said Sean Leahy, administrative director of operations at Franciscan Health Dyer/Hammond/Munster. "They are accurate, efficient, and most importantly, the technology helps us deliver the safest possible environment for our patients, visitors, and coworkers."
Hospital officials said the technology is user friendly and easy to operate.
"On-screen instructions prompt the user, so the device requires little to no prompting from staff," said Trish Weber, vice president of operations at Franciscan Health Michigan City.
Dawn Scott, chief nursing officer and vice president of patient care services at Franciscan Health Crown Point, said staff and visitors appear to appreciate the scanners, which were set up at the Crown Point hospital's 10 entrances on July 27.
The very quick process allows more accurate and consistent temperature scanning, she said. The only issue thus far has been establishing the proper height of the scanning devices to accommodate the most people.
Visitor restrictions continue to be enforced at Franciscan Health hospitals, where one adult visitor per day is allowed under specific circumstances. All visitors are required to wear a facial covering, practice social distancing as well as good hand hygiene.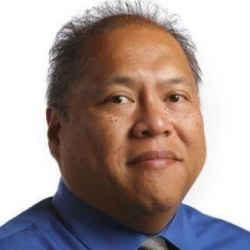 Latest posts by Larry Avila
(see all)