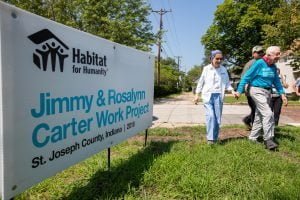 MISHAWAKA – Hundreds of volunteers the week of Aug. 27 were joined by country music stars Garth Brooks, Trisha Yearwood and Eric Paslay, as well as talk show host Dave Letterman to build new homes for Habitat for Humanity as part of the 35th Jimmy and Rosalynn Carter Work Project.
Brooks and Yearwood are longtime supporters of Habitat for Humanity, and in 2016, were named as the first-ever Habitat Humanitarians, alongside former President Jimmy Carter and former First Lady Rosalynn Carter.
Letterman also first began volunteering with Habitat following Hurricane Katrina in August 2005 and has sponsored and helped build more than 24 homes since then. Letterman is a native of Indiana, the host state of this year's Carter Work Project.
Country music singer and songwriter Eric Paslay and his wife Natalie Paslay also joined the Carter Work Project for their second year, having volunteered in Edmonton, Alberta, during the 2017 work project. The Paslays also support Habitat's annual Home is the Key campaign.
The entertainers, volunteers and the Carters spent the week of Aug. 27 on what will become an all-Habitat neighborhood in Mishawaka. Twenty-two new homes are being built in the neighborhood and an additional 19 homes in Mishawaka and South Bend will be built, renovated or repaired as part of the overall project this year. 
Since 1984, the Carters have traveled around the world with Habitat to build and improve homes. In Carters previous 34 work projects, they have worked alongside more than 100,000 volunteers in 14 countries to build, renovate and repair 4,290 homes.