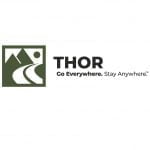 Andy Graves was named chairman of the board of Elkhart-based RV maker Thor Industries Inc.
Graves will be the company's first independent chairman. He spent the past 35 years in leadership roles in global manufacturing businesses and most recently served as president and CEO of Motorsport Aftermarket Group the past four years.
His appointment is effective Aug. 1.
"I'm honored by the opportunity to be Thor's first independent chairman," Graves said in July 29 announcement from the company. "Over the nine years of time on the board, I have come to know and admire the management team."
He looks forward to leading the company's board.
"I am confident that our management team has the leadership and vision to successfully navigate the global RV market."
Graves will resign as the board's compensation and development committee chairman Oct. 1. The company said board member Wilson Jones will take over that role.
Graves' announcement follows the July 15 announcement that Peter Orthwein, Thor Industries' co-founder and executive chairman would step down as executive chairman July 31. Orthwein will become chairman emeritus and remain on the company's board.
Orthwein and Wade Thompson created Thor Industries in 1980.
The company also announced Jan Suwinski, who served on the company's board since 1999, will step down as lead director but remain on the board.
Thor Industries also named Renee Jones as senior director of marketing. Jones will report to Bob Martin, Thor's president and CEO.

Larry is an award-winning journalist with more than 25 years of experience working with daily newspapers and business-to-business publications around the Midwest. Avila is a Michigan native and a graduate of Central Michigan University.

Latest posts by Larry Avila (see all)