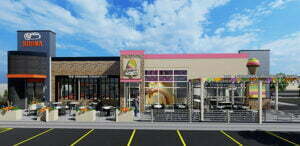 Chicago restaurants Buona and The Original Rainbow Cone are coming to Valparaiso.
The company's vice president of franchise operations said success in Schererville led to the company's decision to expand to a second location in Northwest Indiana.
"Our Indiana communities share the same passion for Buona and Rainbow Cone as our incredible Chicago-area customers do," said Joe Buonavolanto Ill, third generation Buona family member and VP of franchise operations at the company, in a press release. "Our expansion to the state has had enormous success."
The dual location is set to open April 12 at 2901 John Howell Drive in Valparaiso. It will include a drive-thru.
The menu will include Buona's signature Italian beef and Rainbow Cone's five-flavor single ice cream cone, along with other favorites. Food trucks are also part of the plan.
Buona was founded in 1981 and has expanded to 26 locations. Rainbow Cone has been in business since 1926. The businesses joined forces in 2022 to provide the dual concept.
"We've built a proven, scalable approach to expanding Buona and Rainbow Cone to new areas throughout America, with industry-leading innovation, modern design, and the highest quality of classic Chicago flavors," Buonavolanto said. "But it's our deep family and community roots that have truly powered our passion and success."