Ongoing trade wars are expected to slow the nation's economy in 2020, according to Ball State University economist Michael Hicks.
The national and Midwest economies will slow dramatically next year as gross domestic product (GDP) growth remains sluggish due to the Trump administration trade wars with trading partners around the globe, said Hicks, director of the Center for Business and Economic Research at Ball State.
Employment growth in several Midwestern states turned negative in first quarter of 2019, and the decline in total employment, especially manufacturing, will continue through the first half of 2020, he said.
"We project significant slowing of the domestic economy and Midwest economy through 2020," Hicks said. "We anticipate declines in aggregate and manufacturing employment to continue through the second quarter of next year, which would result in five quarters of negative employment growth in Indiana."
Hicks blames the manufacturing slowdown on tariffs levied under the current U.S. administration's application of the Trade Promotion Act, which targets manufactured goods with rates ranging from between 10% to 25% on several hundred manufactured goods and supplies.
Separate tariffs on solar panels, and some home appliances ranging from between 30% and 50%, led to tax revenues for the U.S. that could generate an estimated $80 billion a year, he said.
"Tariff increases are a small overall share of U.S. tax receipts but are levied on goods-producing sectors that sell both domestically and internationally," Hicks said. "The shocks of the tariffs are small overall but concentrated geographically—focusing on the manufacturing heavy Midwest—and within industrial sectors."
He said discussions about recent economic developments and projections must include a review of tariff effects.
"We are simply feeling it here more deeply in the Midwest than the rest of the nation," Hicks said.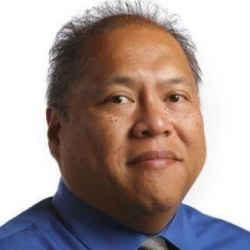 Latest posts by Larry Avila
(see all)