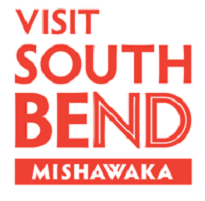 Several attractions and destinations in the South Bend-Mishawaka area will be getting a boost to draw more visitors thanks to $500,000 in grants.
The St. Joseph County Hotel-Motel Tax Board and Visit South Bend Mishawaka recently announced the grants will benefit the advancement of St. Joseph County as a tourism destination. Funded projects will improve visitor experience while providing critical assistance toward tourism product development, Visit South Bend Mishawaka said in a statement.
The Tourism Capital Development Fund is in its second year and will fund these projects:  
Ice Box's improved technology to host larger hockey tournaments ($71,500)

South Bend International Airport's softscape improvements to the terminal and concourse ($138,500)

Venues Parks and Arts' installation of a zipline across the St. Joe River in downtown South Bend ($100,000)

Potawatomi Zoo's installation of a White Rhino exhibit ($50,000)

The History Museum's relocation of Navarre Cabin from Leeper Park to the museum campus ($25,000)

Historic New Carlisle's office relocation and museum expansion ($15,000)

St. Joseph County Park's addition of the region's first natural PlayScape ($100,000)
"(South Bend International Airport) serves as the first and last impression for many visitors to St. Joseph County," said Mike Daigle, airport CEO and executive director. "The funds will allow us to expedite the improved aesthetics and user experience while providing a first-class experience for all visitors."

Larry is an award-winning journalist with more than 25 years of experience working with daily newspapers and business-to-business publications around the Midwest. Avila is a Michigan native and a graduate of Central Michigan University.

Latest posts by Larry Avila (see all)