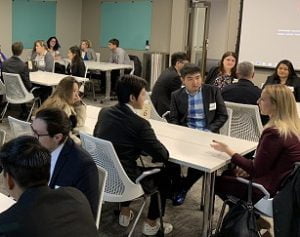 Region businesses seeking training programs for their sales force or potentially seeking sales professionals trained in the latest relationship building and integrity techniques will get an opportunity in April.
Purdue University Northwest is hosting a community open house at the White Lodging Professional Selling Lab from 11:30 a.m. to 4 p.m. on Thursday, April 9. The lab is housed in the Hospitality and Tourism Management Building on the Purdue Northwest campus in Hammond, 2300 173rd St.
During the event, visitors will be assigned a team of advanced selling students for a personalized tour and insight into the training from the student perspective.
The professional selling program at Purdue Northwest is designed to provide students with a depth of training that focuses on personal integrity, relationship building and professionalism. The lab and its array of amenities and educators gives students the experience of learning sales techniques and selling a variety of products and services.
Practice sales sessions also provides opportunities for students to interview for internships and jobs with Region businesses. Lab sponsors include White Lodging, Panduit, DishOne, Fastenal and Enterprise Holdings, Chick-fil-A – Merrillville, SEG, and Northwestern Mutual.
For more information contact Claudia Mich, director of the professional selling lab, at cmich@pnw.edu or (219) 989-3161.
The White Lodging Professional Sales Lab opened in fall 2018.