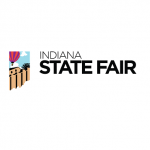 Several Northern Indiana farms will be among the Featured Farmers showcasing their products at the 2019 Indiana State Fair Aug. 2-18.
Presented by the Indiana State Fair and Corteva Agriscience, agriculture division of DowDuPont, the program is now in its fifth year. The initiative celebrates and puts a face on Hoosier agriculture by connecting consumers with farmers.
Farms and their featured products from Northern Indiana include: 
Huber family – Huber's Orchard & Winery, (wine), Clark County

Rodibaugh family- Rodibaugh Farms (soybeans and pork), Jasper County

Sean Smith – Culver Duck, (duck), Elkhart County

Jeff Martin – Triple B Tilapia, (tilapia) Jasper County

Jill and Brian Houin – Homestead Dairy, (dairy cows), Marshall County
The other chosen farm operations represent all regions of the state, showcasing different agricultural products.
 "Our Featured Farmers program introduces fairgoers to Hoosier farmers each day during the fair with opportunities to learn more about where their food comes from," said Cindy Hoye, executive director, Indiana State Fair Commission. "These farmers have incredible stories to tell. On average, an American farmer feeds more than 165 people – that's up from 25 people in the 1960s. American agriculture is doing more and doing it better."
The other featured farmers, farm products and their home counties include:
Mark Smith – Mark Smith Farms (llamas), Montgomery County

Gelfius family – Gelfius Farms (tomatoes and pork), Bartholomew County

Arnholt family – Arnholt Farms (corn and green beans), Bartholomew County

Lamb family – Lamb Farms (popcorn), Boone County

Sommer family – Sommer Farms (corn, soybeans, alfalfa, and dairy cows), Adams County

Sam and Darren Schwoeppe – Schwoeppe Dairy Farm, (dairy cows), Dubois County

Glenn Morris (beef, corn, and soybeans), Gibson County

Emily and Cory Studebaker (poultry), Whitley County

Cline family – Cline Farms (corn, soybeans and pork), Tipton County

Kevin Bohman – Bohman Bee Company (honey), Jefferson County

Larry is an award-winning journalist with more than 25 years of experience working with daily newspapers and business-to-business publications around the Midwest. Avila is a Michigan native and a graduate of Central Michigan University.

Latest posts by Larry Avila (see all)