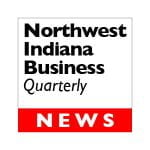 MICHIGAN CITY – On November 18, at noon, Lubeznik Center for the Arts (LCA) invite the public to join us for the opening of our 8th annual Holiday Artisan Market. The Gallery Shop will spill into LCA's main lobby through January 5 to accommodate thousands of unique items for the holiday season. Shop for handmade, items perfect for holiday gift-giving, including offerings from some of the Midwest's finest craftspeople. The market is open during regular LCA business hours and during events.
Comeback for old favorites and find something new. Work by artists that we represent regularly will be available as well as selections by new artists.
One of the new artists is Terrawood Design. A small furniture and objects design and fabrication collective serving the Great Lakes region since 2004, Terrawood Design specializes in hand crafted, one-of-a-kind design using sustainably sourced and salvaged Black Walnut, Maple, Cherry and other local hardwoods. Led by artist and craftsman Chris S. Grohs, the contemporary works produced by Terrawood Design are constantly changing and evolving. Items such as stools, cutting boards, and hand carved utensils will be available.
Hot Shop Valpo is another artist collaborative you'll find at our market this year. Hot Shop Valpo is a glass art studio in Valparaiso, Indiana comprisedof various artists who create custom work to match your favorite colors and styles. Artists create everything from small table top pieces to commercial installations.
Saturday, November 18 from 10 AM to noon, LCA is hosting a Members' Preview, which is an exclusive sneak-peek shopping event. Members will enjoy a 10% discount on all items in the market plus complimentary holiday treats and gift bagging. If you are not currently a member, join or renew today and we'll extend your membership to the end of 2018–an extra two months.

Janice has over 15 years of experience in marketing and advertising for companies such as The Indy Partnership and Gallivan Auctioneers. She began Tower Marketing Solutions, LLC in 2006 to provide marketing, advertising and non-profit association management services.

Latest posts by Janice Dixon-Fitzwater (see all)