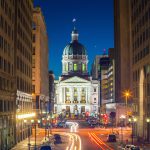 The state of Indiana recently announced new hires and the appointment of one state leader to a national board.
Indiana Commerce Secretary Jim Schellinger was appointed to the United States Investment Advisory Council. Schellinger will serve the U.S. Department of Commerce and its SelectUSA program by advising on strategies and efforts to strengthen and increase foreign direct investment in the U.S.
"As a state, we are committed to taking Indiana to the world and bringing the world back to Indiana," Gov. Eric Holcomb said. "International companies like BWI, Daifuku Wynright, Infosys, Greenleaf Foods and Saab continue to expand and locate here, putting Indiana and Secretary Schellinger in a pole position to contribute to our nation's vision and strategy in bringing more foreign direct investment to our economy."
Between 2016 and 2018, foreign direct investment committed to the state increased by 300 percent. During that time, the IEDC, in partnership with local communities, secured 123 commitments from international companies representing 22 countries and territories to invest $5.8 billion in Indiana and create 15,502 new Hoosier jobs.
The state said additional foreign investment is coming this year from Cormo USA, Indiana Wheel Corp., Multimatic and OSR Inc., which all have announced plans to locate or expand in Indiana.
Other state appointments:
Matthew Brown was named director of the Office of Administrative Law Proceedings within the State Personnel Department. Brown served in a variety of roles at the SPD from 2006 to 2012 and, after a stint in private practice, he returned to the department in 2014. Brown has served as the deputy director of operations at SPD. Brown earned a bachelor's degree in public affairs from Indiana University and a law degree from the Indiana University McKinney School of Law.
Sara Broadwater was named communications director for Lt. Gov. Suzanne Crouch and Thomas Barclay was hired as director of intergovernmental affairs in the lieutenant governor's office. Broadwater will serve as spokesperson for Crouch. Among her prior roles includes serving as deputy press secretary for Secretary of Education Betsy DeVos. She is a native Hoosier, growing up on the north side of Indianapolis and later Valparaiso.
Barclay will be liaison between Crouch and state and local legislators and government. Barclay worked as U.S. Senator Todd Young's district director. He also is a native Hoosier residing in Greenwood with his wife, Cassie.