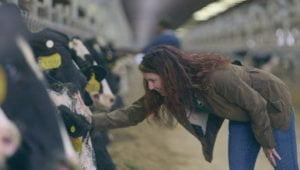 Suzanne McCloskey of DeMotte is the newest member of the Indiana Economic Development Corp. board of directors.
Her appointment was announced by the office of Gov. Eric Holcomb. McCloskey is co-founder of Fair Oaks Farms and Fairlife Milk. Her term expires April 30, 2023.
McCloskey co-founded Fair Oaks Farms, which originally opened in 2004 and is now recognized as the top agritourism destination in the Midwest.
Fair Oaks Farms is located in Jasper and Newton counties along I-65. It draws more than 600,000 visitors annually, including at least 50,000 students on school trips, to its dairy, pig and crop adventures, which gives visitors an opportunity to learn more about modern farming.
Suzanne McCloskey and her husband, Mike, continues to pursue new growth opportunities, including a farm-to-table restaurant, U-pick apple orchard, and the recently-opened, 99-room Fairfield by Marriott hotel.
Other state board and commission appointments announced by Holcomb's office include:
Board of Directors of the Indiana Criminal Justice Institute
Troy Bacon (Frankfort), chief of the Frankfort Police Department. Term expires Oct. 15, 2020.
Board of Safety Review
Jason Hancock (Kouts), site HSE coordinator for TMS International. Term expires March 31, 2023.
Education Commission of the States
Lee Ann Kwiatkowski (Greenwood), senior education advisor to the governor.
Indiana Board of Pharmacy
Matthew D. Balla (Bloomington), president of St. Vincent Dunn Hospital and licensed pharmacist. Term expires March 31, 2023.
Indiana State Coroners Training Board
Tina Franklin (Shoals), coroner of Martin County.
Jeri Good (Rochester), coroner of Fulton County.
Indiana War Memorials Commission
Jerry Griffis (Muncie), veteran and former Delaware County veterans service officer.

Term expiring April 30, 2022.

C.T. Montgomery (Owensville), veteran and former Gibson County auditor.

Term expiring April 30, 2022.


Native American Indian Affairs Commission
Rev. John L. Adams (Evansville), Welborn United Methodist Church pastor. Term expiring Dec. 31, 2022.
Natural Resources Foundation Board
Richard Cockrum (Indianapolis), president of Capitol Assets LLC. Term expiring June 30, 2023.
Oversight Committee on Public Records
Terms expiring March 31, 2023:
Tamara Hemmerlein (Crawfordsville), director of local history services at the Indiana Historical Society.
Jay Phelps (Columbus), clerk of the Bartholomew County Circuit Court.
Scott T. Uecker (Franklin), faculty member with the University of Indianapolis and general manager of WICR-FM.
Pesticide Review Board
Terms expiring March 31, 2022:
Dr. Bruce Bordelon (West Lafayette), professor at Purdue University
Lee Green (Converse), representing the Indiana State Department of Health.
Dr. Ronald Hellenthal (South Bend), emeritus professor at the University of Notre Dame.
Martha Mettler (Indianapolis), representing the Indiana Department of Environmental Management.
Megan Abraham (Indianapolis), representing the Indiana Department of Natural Resources.
Terms expiring March 31, 2023:
James Hawbaker (Lafayette), partner with Huffman & Hawbaker Farms.
Stuart Orr (Morocco), restoration ecologist/botanist at the Nature Conservancy
D. Scott Robbins. (Evansville), technical services manager with Action Pest Control Inc.
James Thomas (Indianapolis), U.S./global regulatory leader at Corteva Agriscience.
State Board of Animal Health
Terms expiring March 31, 2023:
Julie Davis (Economy), owner and practitioner with Circle D Veterinary Services.
Rick Davis (Thorntown), beef cattle producer and branch manager with Eby Trailer.
Greg Hoagland (Eckerty), practitioner with the Dubois County Animal Hospital.
Statewide 911 Board
Matthew Kelley (Fishers), manager of government and regulatory affairs at Comcast Cable. Term expiring April 30, 2022.