Northern Indiana companies with great results and lots of promise.
by Steve Kaelble
What companies have potential to create tomorrow's big business news? That's what the Indiana Companies to Watch program sets out to discover.
This year, four Northern Indiana organizations made the state's Companies to Watch list. These companies aim to bring people's ailing cellphones back to life, keep overhead cranes operating safely and efficiently, promote healing and fight infection among implant patients, and keep food and medicine from spoiling in commercial refrigerators.
Indiana's Companies to Watch were chosen by judges brought together by the state, the Indiana Economic Development Foundation and the Edward Lowe Foundation. A total of 14 privately owned companies made the 2016 list, all beyond startup and all demonstrating strong, sustainable growth. As a group, they increased revenue by an average of 44 percent a year between 2012 and 2015, and grew their total employee count by about a third every year, on average. They expect 52 percent annual revenue growth by the end of 2016, and if that's the case, they will have generated revenue totaling half a billion dollars over the last five years, and together will have created 659 new jobs.
Read on to learn more about the Companies to Watch from the northern tier of the state.
Genius Phone Repair
You could say that it doesn't take a genius to know what an important role smartphones play in people's lives. But it definitely took smarts to figure out a good model for providing repair service that meets the demands of impatient, needy customers going through smartphone withdrawal. The business model is definitely working out.
After just two years in business, Genius Phone Repair–launched by some young college grads in the Grand Rapids area–earned the Young Entrepreneurs of the Year Award from the Grand Rapids Area Chamber of Commerce, and the next year moved up to an Entrepreneur of the Year award from the same organization. By last year, the company was named among Michigan Companies to Watch, and this year its Indiana operations earned it a place on the Indiana Companies to Watch list. It's only five years old now, but Genius Phone Repair has grown to include two locations in Fort Wayne, plus locations in Mishawaka, Angola, Lafayette and Avon, in addition to a dozen in Michigan.
Genius Phone Repair specializes in repairs of all kinds of devices, from iPhones and iPads to other varieties of smartphones and tablets. Computer repairs are also on the menu, and the company buys and sells used devices.
What sets the company apart is precisely this: innovative concepts that serve the needs of device users–concepts that often were the light-bulb moments of its employees. It was a front-line worker, for example, who suggested offering extra-speedy phone repairs for an extra price, and it turns out that plenty of people are more than happy to shell out an extra $20 to get their phones fixed faster. For those who can't get through an hour without checking Twitter, that's a whole lot better than having to ship off a faulty phone.
Genius Phone Repair went from one location to about a dozen and a half in five years, hit 136 employees in 2015 and was expecting to reach 175 this year. Not a bad call!
Hoosier Crane Service Co.
It's no accident that the word "service" is part of the name of Hoosier Crane Service Co. Tom Schmidt, founder and president of the Elkhart-based business, says that's what his company is all about. "A big part of our success is how we treat our customers," he says. "Our customers can call us 24/7 and someone will always answer. 'Service' is in our name, and it is the heart of Hoosier Crane."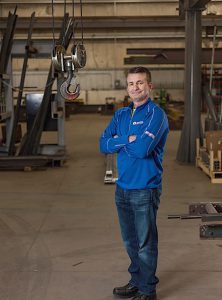 The company, launched in 2002, is in the business of servicing, inspecting and manufacturing overhead cranes. It also sells crane kits, parts and accessories for the industry. "The annual revenue growth rate has been about 20 percent over the past three years, and our employee numbers have been steadily increasing along with that revenue growth," Schmidt says.
One aspect of service is always being available. For Hoosier Crane, that means being at-the-ready to help a customer, at any time of day, even on holidays. But that's just the start. Responsiveness is important in the sales end, too.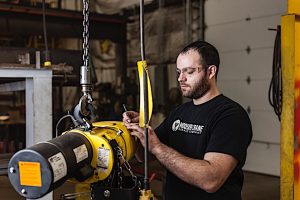 With that in mind, Hoosier Crane has worked to maximize the power of online functionality. You might ask, how can you buy a massive, overhead crane online? It's not your typical Amazon.com kind of product. True, but on the company's website, a quote wizard can help you generate a quote for the crane you're seeking, and get it right away, rather than in days.
You can get an express service quote online, too. And the company's sophisticated website also includes a whole host of helpful videos and manuals. Overhead cranes may be a mainstay in the industrial world, but Hoosier Crane's online technology is several steps ahead of the pack.
The company's expansion into additional locations also helps it live up to the "service" in its name. In addition to its Elkhart headquarters, Hoosier Crane has branch offices in Fort Wayne, Indianapolis and Chicago.
Nanovis LLC
Nanovis creates what it likes to call "science-driven, life-improving technology." More specifically, the company's product line focuses on scientifically advanced regenerative platforms for implantable medical devices. As its name suggests, Nanovis is in the business of nanotechnology, which, simply put, has to do with things that are very, very small.
The challenge that the company addresses is the fact that human tissues have tiny patterns–nano-sized patterns–and if medical technology such as implants can be made to resemble those patterns, there is a greater likelihood of successful healing. Nanovis works to help implants heal more effectively and with fewer infections.
The whole topic of infections is an increasingly important one, since surgical infections can be extremely serious, and resistant strains of bacteria are becoming more commonplace. If nanotechnology can help implant surgeries become less prone to infection, that's quite a positive.
Nanovis, based in Columbia City, was founded 10 years ago, and is on an increasingly fast growth trajectory. Its roster totaled eight employees last year, and it was on track to more than double the count this year. Beyond its headquarters, the company maintains offices in Carmel as well as labs at the Birck Nanotechnology Center at Purdue University.
Plenty of things have been going well for the fledgling company. For example, earlier this year, the company announced a grant from the National Institute on Aging, part of the National Institutes of Health. The grant funding is intended to support pre-clinical studies related to the company's deeply porous FortiCore interbody fusion devices and nanotube technology. The company believes the technology has potential to improve recovery following spinal fusion procedures.
Says the company's CEO, Matt Hedrick, "Gaining the attention and support of the NIH for Nanovis' technology platforms and research is gratifying. Grants from the NIH help us continue to discover potential applications to improve the future of healthcare."
SMART Temps LLC
Whether it's food, medicine, vaccines, blood or lab specimens, maintaining the right temperature is critical. Getting it wrong can be costly, even dangerous, which is why Mishawaka-based SMART Temps ensures mega peace of mind.
SMART Temps' technology uses wireless thermometers to monitor the temperature of things that need to be cold or hot. Why wireless? Because the monitoring devices pass along the data into the cloud, allowing the company's technology to automatically send out email, text or phone alerts if a sensor senses that something isn't the way it should be. And wireless also means battery-powered, and that means the sensors can keep gathering data even if the power goes out.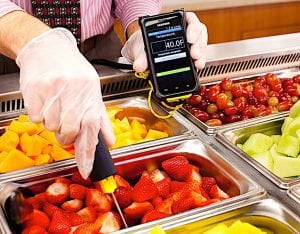 The beauty of the technology is that it's simple for the end user to keep tabs on many critical locations. The Rite-Aid pharmacy chain signed on with the company last year to monitor drugs at 4,600 stores, a huge contract that has enabled the company to get the attention of other major drugstore chains. It already had built a solid reputation with schools and higher-education institutions, but cracking the drugstore market has a very healthy potential for SMART Temps.
The next frontier is the restaurant business, where SMART Temps can help protect food storage areas from the risk of spoilage and food safety issues. For restaurants, automating the business of temperature monitoring means less pencil-and-paper work, and greater peace of mind. The company has its eye on cruise ships, too, and movie theaters, grocery stores and hotels. It's up to 14,000 locations under its watchful eyes, with many more on the way.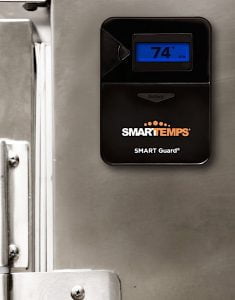 For SMART Temps, success has come from listening to customer needs, then figuring out the technology needed to meet those needs. "SMART Temps has always been customer-centric," says the company's president, John M. Miller. "We listen and innovate based on what the market needs, even if the technology isn't there to support the need. This is true throughout our organization, and why our success has been a total team effort."
The company was launched in 2009 as a spinoff of SMART Systems, a provider of food safety systems and supplies for schools. John Miller's brother, Michael, runs that business. SMART Temps employs about 35, and hopes to rapidly grow its business by as much as three times through 2017.
"Our future is limitless," says Michael J. McKay, partner and chief operating officer. "We have a great product with a real return on investment that provides real-time peace of mind."